Judith Brin Ingber is an international expert on Israeli and Jewish dance. Learn about her upcoming events, recent articles and more.
---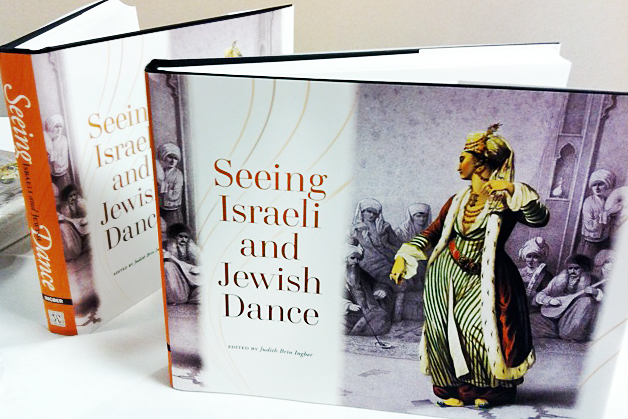 In Seeing Israeli and Jewish Dance, choreographer, dancer, and dance scholar Judith Brin Ingber collects wide-ranging essays and many remarkable photographs to explore the evolution of Jewish dance through two thousand years of Diaspora, in communities of amazing variety and amid changing traditions. Taken together, this wide range of expression illustrates the vitality, necessity, and continuity of dance in Judaism.
---
Judith attended the International Israeli Dance Exposure Festival in Tel Aviv last December. Her write up about Israeli dance performance appears in the Israeli magazine Mahol Achshav [Dance Today] #35. Read it here.
---
Judith will be contributing editor for Mahol Achshav's forthcoming issue #36 at the invitation of editor Ruth Eshel featuring many papers from the Arizona State University conference "Jews and Jewishness in the Dance World" continuing the unusual dialogue between Israeli dancers/researchers/critics/ and those in England, Europe, Canada, the US, and South America.
---
Sara Levi-Tanai
The recent Hebrew biography of Sara Levi-Tanai A Life of Creation (Haim Shel Yetzirah), includes Judith's chapter "Turning Dance Assumptions Upside Down." Download the English version here.
Sara Levi-Tanai inspires not only adults but also children in this new picture book about her remarkable life.
News & Events
Judith at Conney Conference on Jewish Arts at the famed 92Y, NYC, March 31-April 3, 2019
The Dance Workshop, initiated by Judith at first Conney conference in 2007, continues to include her at its daily working group improv sessions. On April 1 of the Conference, Judith starts off the evening program with stories and visuals to introduce Fred Berk and his seminal role at the 92Y. Berk created the Jewish Dance Center highlighting Israeli folk dance and performances. The evening program continues with current 92Y Israeli folk dance directors Ruth Goodman and Danny Uziel also speaking and leading important Israeli folk dances.
See the Conney website for Judith's keynote address "Myopic Or Blind?" from the 2017 conference at link: https://conneyproject.wisc.edu/videos-2017/ as well as videos of the Jewish dance workshops she directed and links to video archives of her previous papers, see here.
---
Special Citation awarded Judith Brin Ingber as ground breaking scholar in Jewish and Israeli
This was noted in the Dance Magazine autumn issue: Dancing While Jewish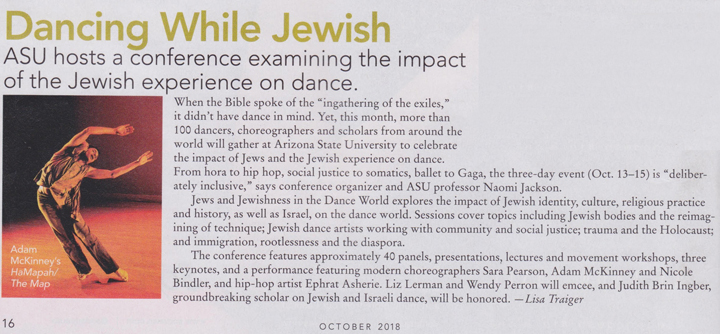 In conjunction with the conference, Judith and Naomi Jackson co-curated "Reimagining Communities Through Dance", a large wall exhibit with books and memorabilia at Noble Library, ASU. Click to view the panels.If you are interested in re-mounting exhibition, contact naomi.jackson@asu.edu
---
Judith's newest dance "WHERE?" Part of ICON SAM TEMPLE DANCES
Judith's new trio, WHERE?, featured dancers Susana di Palma (in fez on left), Judith (center) and Rahila Coates (right). Projected behind the trio was an actual historic Masonic backdrop of Solomon's Temple [Top photo courtesy of Lance Brockman and the Performing Arts Archives of the University of MN].
Judith's new trio, WHERE?, was seen in a remarkable 11 performance series ICON SAM TEMPLE DANCES produced by artist-in-residence Sally Rousse in downtown Minneapolis. The performances in the 1888 historic Masonic Temple (now known as the Hennepin Center for the Arts) took place in a "hysterical historic romp" Rousse said, through the alley, studios, hallways, old wrought iron curving staircase, elevators, conference rooms as well as the building's two proscenium theatres. To see the works by 8 different choreographers, audiences took simultaneous tours with 3 different guides throughout the historic 8 floor building. Judith's dance WHERE? on the main floor, began the whole extraordinary event. One could hear the mystical musical accompaniment to WHERE? on the first floor, composed by flutist Jim Miller based on the ancient chant of Solomon's Song of Songs.
---
Judith and "Mr. Gaga" or Ohad Naharin
"Mr. Gaga", the documentary film about Israeli choreographer Ohad Naharin continues to be shown throughout the US and internationally. Judith was featured in a Q and A following the screening of "Mr. Gaga" at the Jewish Film Festival in Palm Springs, CA. For the festival publicity, Tomer Heymann, award winning-filmmaker of "Mr. Gaga" created a new 3 minute clip of Judith speaking about Ohad, click here.