Past Performances, Residencies and Presentations
Go to Seeing Israeli and Jewish Dance for information on Judith's book presentations and programs. Click here to view an interview with Judith about her book conducted by The Jewish Daily Forward and see dozens of the extraordinary photos accompanying the different book chapters.
Longtime choreographer/dancer Judith Brin Ingber has created solo and some group dance programs of her own works. They have been seen in Minnesota venues including the Walker Art Center, the Southern Theater, the Bryant Lake Bowl 9x22 Cabaret, the Center for Independent Artists, Dreamland Arts, both the Minneapolis Jewish Community Center and the St. Paul Jewish Community Center, and synagogues in Minneapolis, St. Paul, Rochester and Duluth plus on tour throughout the US and in Israel.
In addition to her solo shows she has collaborated with other artists including choreographers/dancers Sally Rousse and Mary Easter, painter/sculptor Georgette Sosin and musicians David Jordan Harris, Alex Lubet and Jim Miller.
See Voices of Sepharad.
2015
On March 23-27, Judith directed the Dance Lab for the 2015 Conney Conference on Jewish Arts, held at the University of Southern California in Los Angeles, and gave a paper called Jewish Men on Stage: Dancer Baruch Agadati & Stage Designer/Costumer Boris Aronson. Watch her presentation here:
Click here for more videos from the Conney Project and two different dance presentations by the Dance Lab.
Judith spent a day in March at the University of CA Riverside Dance Department as guest of Professor Linda Tomko, where Judith was a guest lecturer on dance and ritual in society, speaking to dance in Judaism and the development of theater dance in Israel. She also met with faculty and graduate students, speaking about how she researched for her books, interviewed dance creators (including her experiences with Batsheva Dance Co. and the Gaga dance form) and her experiences associated with publishing her works. Read Judith's latest article, Bravo and Mazel Tov, covering the Batsheva Dance Company's 50th anniversary in the double issue of the Dance Critic Association's newsletter (fall/winter 2014). Thanks go to the Dance Critic Association and the DCA newsletter editor Robert Johnson.
In addition to the Dance Lab, she presented "Hasidic Representation in Dance and Theater: Baruch Agadati and Boris Aronson", a paper about Boris Aronson, remembered for his set design of Fiddler on the Roof, and Baruch Agadati, first solo Jewish dancer in Palestine/Israel.
2014
On November 30th, 2014, Judith Brin Ingber gave a lecture "An Unlikely Venue for Jewish Dance: Terezin", about the World War II Ghetto that became a transit camp called Terezin outside Prague at the Jewish Museum in Prague (U staré školy 141/1, 110 00 Praha 1, Czech Republic). She also lectured at the dance program of the Prague Academy of Arts (HUMA) during the first week of December.
Judith spearheaded the memorial to Yiddish master performer Felix Fibich on Sunday, November 23, 2014 at the Museum of Jewish Heritage (36 Battery Pl, New York, NY 10280). Besides Judith (Felix's biographer), Steven Weintraub performed a Yiddish dance solo of his own, Yiddish singer Amanda Miryem-Khaye Seigel sang a favorite of Felix's; Jill Gellerman led Hasidic dances and there were reminiscences by colleagues of Felix's.
Judith was one of the artists featured in the unusual P'Chotchka 2014 Program of the Rimon MN Jewish Arts Council. P'Chotchka, which featured Jewish artists speed-flipping through photos/videos as they spoke about their work on June 2, 2014. In the accompanying photo (by Ann Ginsburgh Hofkin) you see Judith in a Sephardic-inspired costume referring to her days dancing at Sarah Lawrence College.
Judith appeared in Zorongo's ConVivir: 7 Dances to A More Compassionate World, in April 2014 at the Cowles Center for Dance and The Performing Arts, Minneapolis.
Judith marked Purim, 2014 at Congregation Har El, Palm Desert, CA with a special program of dancing and talking about customs and lore from historical and contemporary Sephardic, Mizrahi, Ashkenazi communities and secular Tel Aviv.
2013
Judith attended the International Exposure Festival of Contemporary Israeli Dance at the Suzanne Dellal Dance Center in Tel Aviv. For her impressions see her articles for the blog "Dance in Israel":
A Perfect Storm of Dance
Gazing Anew at Jugs, Curves and Maps
While in Israel, she also taught at the Western Galilee College dance program.
In the fall, Judith led a discussion at Rutgers University with award-winning top Israeli choreographer/performers of 2013, Niv Sheinfeld and Oren Laor, following their "Two Room Apartment" performance. She also spoke after the Rutger's Jewish Film Festival screening of "Let's Dance," the recent documentary about Israeli contemporary dance.
Judith created the special celebration, "The Joy of Water Drawing", for the autumn Sukkot holiday celebration held outside by moonlight on September 21st, 2013. It was created with Voices of Sepharad co-founder and vocalist David Harris for Beth Jacob Congregation in Mendota Heights, MN, along with one of VOS's drummers Tim O'Keefe. They are pictured in Geoffrey Marshall's photo.
In May 2013, Judith presented "Mothers of Israeli Folk Dance," an illustrated talk in NY. She also signed her book. This is the third program she has done with Cantor Steven Sher, who also brought her with Voices of Sepharad and with Mary Easter and their program "And the Walls Came Tumbling Down."
At the University of Wisconsin, Madison, in April 2013, Judith conducted the dance workshops with a showing for the Conney Conference as well as presented her paper on Ted Shawn and his programming prejudices at Jacob's Pillow. (See also Conney conference papers listed in 2007).
On January 23, 2013, Judith's duet, "Clouds", premiered at 9x22 at the Bryant Lake Bowl in Minneapolis with her and dancer Sally Rousse and flutist Jim Miller (in foreground with Judith).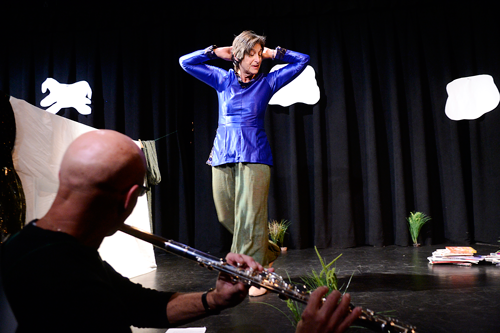 2012
On August 7, 2012, Judith taught elements of Sephardic dance and performed with Voices of Sepharad on their 25th anniversary concert at the Minnesota History Center, St. Paul, MN at the Minnesota History Center's summer world music series. The performance, held on the picturesque outdoor veranda of the MN History Center, was co-sponsored by the St. Paul JCC Cultural Arts Department. For a short video excerpt of the show see Photo Gallery.
In 1986 Judith co-founded Voices of Sepharad with vocalist David Jordan Harris. Together they have created many full length evenings based on the culture of the Jews originally based in Spain (Sepharad in Hebrew), exiled in 1492, creating new communities around the Mediterranean especially in Casablanca, Salonika, and Istanbul. Voices of Sepharad and Judith's fully costumed dance works have toured throughout the US, Canada, Poland, Istanbul and also Israel. See www.voicesofsepharad.com for history and updates of shows. On this website go to Judith's page, Choreography for Voices of Sepharad plus Photo Gallery for further images and information
On July 7, 2012, Judith was the featured speaker for the prestigious Jacob's Pillow Dance Festival as part of the gala 80th anniversary Saturday. At her Pillow Talk, she was interviewed by Jacob Pillow's scholar-in-residence Philip Szporer; the bookstore sold out of all copies of her book following her talk headlining a wonderful week of Israeli dance performances by Vertigo Dance Company and LeeSaar The Company held in the idyllic western Berkshires festival. Judith was also a research fellow at the Pillow during that week, preparing for her forthcoming presentation for the University of Wisconsin Conney conference.
On April 27-29th, 2012, Judith taught and performed for the Dance Department of Wayne State University and offered special workshops for the Festival Dancers and others at the West Bloomfield JCC as well as international folkdancers in Detroit.
2011
In 2011, Judith had many events related to release of Seeing Israeli and Jewish Dance. See here for information on those events.
Israel Dance Library and Dept of Theatre Studies, Tel Aviv University, Tel Aviv, Israel, December 25-26, 2011. Judith gave a keynote address about Sara Levi-Tanai at the international conference dedicated to this amazing artist. Levi-Tanai was the founder of Israel's first modern dance company, Inbal Dance Theatre, and also was a composer, poet and essayist.
Judith attended Tel Aviv's International Dance Exposure November 30-December 4, 2011
On November 20, 2011 Judith presented a special performance "I Danced Because I Wanted to Say Something: American Jews and Dance" about her book with contributing author Jill Gellerman and performers at the new National Museum of American Jewish History. The program was followed by a book signing. So. Independence Mall East, Philadelphia.
Judith participated in the Ohio State University "Modern Jewish Experience Through the Lens of Dance" conference February 13-14, 2011. The Ohio State University gathering, a two-day international conference including a matinee performance, scholarly panels and a roundtable discussion, was free and open to the public, sponsored by the Melton Center at Ohio State University, www.meltoncenter.osu.edu.
Judith presented a short program "Greet the Day, a Dance Movement Experience," at the SCHMOOZE Festival January 12, 2011 in New York, plus a presentation about Seeing Israeli and Jewish Dance. The SCHMOOZE Festival was presented by The International Jewish Presenters Network, a new arts network linking presenters with artists and distributors.
2010
Judith was the master of ceremonies and presenter at the special program The Pulse of Jewish Folk Dance, A Tribute to Fred Berk, Berk founded the Jewish Dance Division at the famed 92Y, NYC. The June 20, 2010 performance was a rare opportunity to see reconstructed works by Berk, considered the father of Israeli folk dance in America. Presented by Ruth Goodman and Danny Uziel, directors of 92Y's Israeli Dance division, and the Israeli Dance Institute, the event also featured Brin Ingber, Livia Drapkin Vanaver, Amy Schmidt and Danny Pollock, concluding with a discussion and open Israeli folk dancing session.
An evening in 2010 called "People of the Book" with composer Alex Lubet featured Judith's solo "Stepping into Heaven," inspired by a series of paintings by Georgette Sosin and also included the solo "Roles Not Taken." 3-Minute Egg met with Judith during a run-through of "Stepping into Heaven," before the Mpls JCC performance. See this streaming video of "Stepping into Heaven" (release date, Jan. 25, 2010, Runtime 4:02). Filmmaker Peikin said, "I met with Ingber during a run-through of her piece. Longtime local choreographer Judith Brin Ingber has made some of her most poignant work in collaboration with artists from other disciplines. ... 3-Minute Egg met with Judith during a run-through of the piece."
"Stepping into Heaven," was commissioned by the MN Rimon Artist Salon Series and first performed in 2008 at the Basicilica of St. Mary's for an interfaith dialogue between Catholics and Jews. Judith's solo, accompanied by Jim Miller's original flute music, was inspired by "Meditations on the Aramaic Lord's Prayer, Kaddish, and Other Work," an art installation of Georgette Sosin. Judith's solo performance took place in front of Sosin's oils, hung in the Basilica gallery space.
"La Rosa Revisited, Yearnings" performed with Hannah Kramer and Canae Weiss, and original Voices of Sepharad musicians David Harris and Scott Davies ("Matteo") in the 9 x 22 series at the Bryant Lake Bowl, Mpls., June 23, 2010.
2009
Judith performed, lectured and taught during "Klezmerquerque," Feb. 12-15, 2009 in Albuquerque, New Mexico, in the 7th Southwest annual Klezmer music and dance festival—which included a weekend of concerts, classes and workshops with the Strauss/Warschauer Klezmer Duo. Judith's workshops featured dances from the Eastern European Jewish wedding repertoire such as Rebbe Elimelech tanz and Kayzad merakdim.
Her lecture "Why Jews Aren't Just People of the Book" included rare and historic dance photos and music for Jewish dance in far-flung communities through the ages. The featured Saturday evening concert in Albuquerque included Judith's dance "The Argument," a modern twist about the matriarch Sara arguing with Abraham about sacrificing their son Isaac. The dance was accompanied by the chanting of the classic biblical story by Brin Ingber's sister Rabbi Deborah Brin, who is also the rabbi of Congregation Nahalat Shalom.
2008
Judith premiered her dance solo "Roles Not Taken," in the autumn of 2008 at the Minneapolis 9x22 Dance Cabaret at Bryant Lake Bowl: The solo was also commissioned by 9x22. Created in collaboration with videographer Will Fehlow, the solo is both humorous and poignant as it looks at TV's Mickey Mouse Club, musicals, classic ballet and issues of Jewish identity.
Judith's "The Argument" was seen on July 29, 2008 program and on a special performance of Voices of Sepharad in "Peace in the House," 2006, Sundin Music Hall on the Hamline University Campus, Saint Paul, MN.
"Through Tears to Joy," choreographed and directed by Judith on February 17, 2008, Mpls. Jewish Community Center, was a humorous theater dance program written by David Jordan Harris and Carla Vogel. It was an original take on Eastern European Jewish weddings, featuring klezmer musician Judith Eisner with her ensemble Classic Klezmer; vocalist David Jordan Harris; storyteller Carla Vogel and 8 dancers including Judith Brin Ingber. The performances were a special event of the JCC's Center for Arts and Jewish Humanities.
In 1986 Judith co-founded Voices of Sepharad with vocalist David Jordan Harris. Together they have created many full length evenings based on the culture of the Jews originally based in Spain (Sepharad in Hebrew), exiled in 1492, creating new communities around the Mediterranean especially in Casablanca, Salonika, and Istanbul. Voices of Sepharad and Judith's fully costumed dance works have toured throughout the US, Canada, Poland, Istanbul and also Israel. See www.voicesofsepharad.com for history and updates of shows. On this website go to Judith's page, Choreography for Voices of Sepharad plus Photo Gallery for further images and information
Judith presented a free afternoon show on February 7, 2008 at Dreamland Arts, including "Roles Not Taken," and "The Argument," based on the story of the biblical matriarch Sarah and Hagar in a modern day twist, plus Judith's illustrated presentation on Jewish dance.
The prestigious Spertus Museum on Michigan Ave. in Chicago presented Judith in her new multimedia lecture for the museum's new building. Called "A Brief History of Jewish Dance" Judith also danced and gave a short class on Jewish wedding dances on January 20, 2008 at as part of the Solomon Goldman Lecture Series.
Judith performed twice in the Middle East Civic Education Project, the final activity of a remarkable two week residency for educators. Every summer they come together from Israel, Jordan and Lebanon to work on curricula of tolerance for many grade levels as part of the Hamline University Middle East Civic Education Project, directed by Ari Zamora.
2007
Judith taught at KlezKamp: The Yiddish Folk Arts Program 23rd annual program, Dec. 23-28, 2007, working with Felix Fibich in "Meeting with Our Masters." As dance historian, Judith set the stage for legendary dancer/choreographer octogenarian Felix Fibich, presenting and interviewing him in 5 workshops and helping him to stage one of his klezmer style dances. She discussed Fibich's long and fascinating career in Europe, Russia, Israel, South America and the U.S.
Judith's paper, "Identity Peddlers and the Influence of Gertrud Kraus," was presented at the international Congress on Research in Dance 2007 called Choreographies of Migration in New York City at Barnard College, November 8-11, 2007. The illustrated paper presented the career of Gertud Kraus and her influence on many dancers and audiences with her own emigration escaping the Nazis from Vienna to Tel Aviv. Kraus added immeasurably to the modern dance experience and to Jewish identity for more than five decades in Europe, in Palestine/Israel and in the United States.
Download the presentation (PDF format)
View a slideshow that accompanies "Identity Peddlers and the Influence of Gertrud Kraus."
See a video of Judith presenting "Identity Peddlers and the Influence of Gertrud Kraus" at the University of Wisconsin.
See Judith's presentations in podcasts from four Conney Conferences on the Jewish Arts at the University of Wisconsin, Madison:
Follow link: conneyproject.wisc.edu/2009-conference.
She was also artist-in-residence in Waukegan, IL at Rabbi Ze'ev Harari's Congregation Am Echod where she performed and lectured in 2007.
Machol Europa
Judith taught for the third time at the Machol Europa in the summer of 2007 at the remarkable Israeli dance festival in England. She offered special lectures on the founders of Israeli folk dance with new films she had made on her recent trip to Israel where she interviewed the still active 97 year old Yardena Cohen; and Yonaton Karmon, folk dance creator and founder of the Karmiel Festival; as well as dance leaders and creators Yoav Ashriel and Moshiko Ha-Levi. See www.idi.org.uk.
2006
PEACE IN THE HOUSE
Judith performed with five other dancers and six musicians in Voices of Sepharad's theater, music and dance evening in 2006 portraying the rich relationship of neighborliness between Sephardic Jews and Arabs during the last several hundred years. Seen at the Southern Theater in Minneapolis, the Phipps Center in Hudson, Wisconsin and at Hamline University in St. Paul, there were many enthusiastic audiences for this big production. www.voicesofsepharad.com.
2005
Judith presented her paper entitled "Searching for Sephardic Dance and A Fitting Accompaniment: An Historical and Personal Account," at the International Conference of the Association for Jewish Studies in Washington DC on December 18, 2005. Her paper included a personal account of her Sephardic work.
Judith presented a paper at the International Conference of the Congress on Research in Dance at the University of Quebec, Montreal, titled "Dancing Despite the Scourge: Jewish Dancers during The Holocaust" on November 12, 2005.
Judith co-produced "From the Horse's Mouth: Magical Tales of Real Dancers" with the Southern Theater, Oct. 27-30, 2005. The evening was a dance/theater celebration of the exciting diversity—and rich history—of dance in Minnesota. Originally created by Jamie Cunningham and Tina Croll, they collaborated with dance personalities from the Twin Cities including performers Ranee Ranaswamy, Sally Rousse, Cassandra, Zoe Sealy, Linda Shapiro, Tamara Ober, Brin Ingber and others.
(Judith is in the black gown, Sally Rousse wearing pointe shoes, James Sewell in shorts, next to tall Patrick Scully in the seersucker suit.)
Judith had a residency in July, 2005 at the West Bloomfield (Michigan) Jewish Community Center where she also conducted workshops for the Festival Dancers, created a performance in conjunction with the art exhibit about Sephardic costumes, and lectured about Jewish dance. Read about her visit to Michigan in the Detroit Jewish News.
Tales and Controversies, February 15th, 2005, Rutgers University,
An Evening of Original Music & Dance created and produced by Judith Brin Ingber - dancer, choreographer and storyteller (in conjunction with Jeff Friedman and the dance program), accompanied by Sephardi musicians Sarah Aroeste and Yoel Ben-Simhon, Rutgers University, New Brunswick, NJ, Nicholas Hall.
Judith's evening for Dayla Center for Arabs and Jews in Jerusalem, Solo Dances and Discussion with the Artist, January 7, 2005, Jerusalem, Israel. (Judith's dances included "Hagar's Midrash," "The Argument," and "The Comeback Performance of Bari Simon" for Dayla's diverse audience of Arabic and Hebrew speaking young people, as well as arts patrons and political activists from a broad Israeli spectrum.
2004
Celebrating 350 years of Jewish Life in America
November 20, 2004, Brin Ingber presented a special lecture in conjunction with Paul Taylor's premiere at the University of Washington in Seattle, celebrating 350 years of Jewish Life in America. Her lecture was sponsored by Nextbook and the University of Washington World Dance Series. For further information, reach Michele Yanow at myanow@nextbook.org.
"The Argument" was presented by curator Laurie Van Wieren October 27, 2004 at the popular Minneapolis cabaret 9 x 22 — A Dance Lab at the Bryant Lake Bowl.
She spoke at the SDHS Conference at Duke University in June 2004 about Jewish dancers from Europe in World War Two.
At the Festival of One Woman Shows, Judith performed in the Center for Independent Artists in Minneapolis February 21 and 22, 2004 with storyteller Carla Vogel. Judith showed her dance about Gurit Kadman, also the "Comeback Performance of Bari Simon," and "The Argument." The CIA theater was named "The Best Theater for New Work," by the City Pages.
THIRST!
Judith's full length evening, THIRST! ,was presented in 2004 at the Southern Theater. The centerpiece was a new work about the biblical heroine Judith who was spurred to action against the powerful, malevolent Holofernes. The original score was composed by Michael Karmon, the role of Holofernes played by Joe Spencer. Other dancers included Robert Haarman, Canae Weiss and Judith. Canae was the first deaf dancer ever to train in the special summer workshops of American Ballet Theater; she brought an unusual sensitivity and skill to her role as the assistant to Judith., and in Judith's new piece " according to the Star Tribune article. Other premiers included Judith's solo "The Comeback Performance of Bari Simon," and "Shiviti: A Hebraic Mandala" danced by Canae, showing the patterns we fail to see in our lives, to original music by Danny Maseng. Also on the program was "Hagar's Midrash, A Story," depicting the legendary Biblical story of the Egyptian concubine lost in a desert of panic. A reprise of "These Things I Remember" showed how heirlooms tarnish in the face of exile and ignorance, starting with the Inquisition period in Spain, then moving to Morocco, Turkey, Greece during the Nazi period and today. The musicians of Voices of Sepharad with David Harris as starring vocalist accompanied "Thirst," "These Things I Remember" and "Hagar's Midrash, A Story."
THIRST! was announced in the Minneapolis Star Tribune.
"Hannelore " a dance solo in collaboration with composer/guitarist Alex Lubet based on paintings of Holocaust survivor Hannelore Baron (with special permission of her family and the Smithsonian to use photos of Baron's projected paintings). First performed at Macalester College, St. Paul in spring, 2000; also at the University of British Columbia in Vancouver, and at the national Society for Disability Studies conference in Bethesda, Maryland June, 2003, also seen at Beth Jacob Synagogue in Mendota Heights, MN; the Minneapolis Jewish Community Center and the Spark Festival at the University of Minnesota.
2003
In November, 2003, Judith was a guest of the Graduate Colloquium of the dance program at the University of California, Riverside sponsored by Professor Linda Tomko. Besides teaching, she performed her program "Whose Jewish Identity? Comments and Examples through Dance."
Judith's dance history and critical writing courses in the 10th annual International Contemporary Dance Conference and Performance Festival in Bytom, Poland in July and August of 2003, sponsored by Jacek Luminski, director of the Silesian Dance Theater.
2002 and earlier
Judith lectured at the Rubin Academy of Music and Dance in Jerusalem in winter 2002; and at the Ga'aton Dance Center in 2002.
Her illustrated dance lectures about dance in the Holocaust and the research of Jacek Luminski were featured at Swarthmore College in Philadelphia in autumn 2001, as part of an international conference on the Polish choreographer Jacek Luminski;
Mergers and Acquisitions
Judith's humorous work "Mergers and Acquisitions" with Patrick Scully and Brian Sostek was been seen at Walker Art Center(WAC) on the Choreographers Evening. This yearly series, a mainstay of the Minnesota dance scene, was originally created by Brin Ingber for WAC and at Patrick's Cabaret, 2001.
She spoke about Fred Berk's life and contribution to the spread of Israeli folk dance in Israel at the international Israeli folk dance festival "Horati" at Hofstra University in New York in 2001.
For American Jewish Studies conferences in Washington, DC, in Chicago and in Boston, Judith has presented papers about Jewish dancers in the Holocaust and Yemenite Israeli choreographer Sara Levi-Tanai; and dance in Judaism as seen in her book.
Her paper "Is Sephardic Dance Too Sexy?" was featured at the 6th International Conference of Languages and Literatures of Sephardi and Oriental Jews in Jerusalem.
"Vilified or Glorified? Views of the Jewish Body in 1947" was selected by the Society of Dance History Scholars for the Dancing Into the Millenium conference in Washington D.C. in the summer of 2001.
Another successful program, the full length evening piece called "And The Walls Came Tumbling Down" about Black/Jewish relations co-created and co-performed with fellow choreographer/performer Mary Easter, was also seen from 1997-1999 at the University of Minnesota; in the Jewish Community Centers of St. Paul and Minneapolis; Intermedia Arts, Minneapolis; at the Hallie Q. Brown & Martin Luther King Center in St. Paul, Minnesota; on tour to Grinnell College in Grinnell, Iowa; Carelton College in Northfield, Minnesota; Chicago's Temple KAM Isaiah; New York's Temple Israel of Northern Westchester, in Croton-on-Hudson, and Sarah Lawrence College, Bronxville, New York.
Judith also made guest appearances with two ballet companies:
as the sausage seller in Sally's Rousse's "Petrouchka, ode to Nijinksy," in the James Sewell Ballet Company (JSBC) Minneapolis production, at the Southern Theatre, for the winter JSBC season, Feb., 2009.
in the James Sewell Ballet Company (JSBC) Minneapolis production, at the Southern Theatre, for the winter JSBC season, Feb., 2009.
as the Lady Capulet, in the full length "Romeo and Juliet" on Valentine's Day, 2003, at O'Shaugnessy Auditorium, St. Paul, MN. Produced by Erik Sanborn, for the Metro Ballet, http://www.metroballet.org
Judith was the Farber Fellow at Princeton University where she taught in the dance program for Professor Ze'eva Cohen and addressed the college in her lecture: "Relaxed: Views of the Body from Biblical Time to the Present" at Princeton University, April 26th, 1993.