Photo & Slide Show Gallery
---
TALKING DANCE, Oct. 25, 2022
Walker Art Center's Talking Dance with Brazilian dancers Mário Nascimento and Lia Rodrigues, first time off site at Macalester College, the Free program on Tuesday, Oct 25 at 7 PM will take place in the Janet Wallace Fine Arts Center (130 So Macalester St., St Paul)
*Talking Dance, co-presented by the McKnight Choreographer Fellowship program,the Walker Art Center and Macalester College is a yearly program made possible by the generous support of Judith Brin Ingber in memory of her mentor Gertrude Lippincott, Minnesota's first modern dancer with a national reputation.
---
See footage of Judith Brin Ingber's NUMBER OUR DAYS, performed with Stephanie Fellner Grey at the Shed in St. Paul, MN in the summer of 2021.
Choreography: Judith Brin Ingber
Dancers: Judith Brin Ingber and Stephanie Fellner Grey
Composer/Flutist: Jim Miller

Judith and Stephanie also danced that weekend in Berit Ahlgren and Helen Hatch's LDV.
See Previous Projects for details.

---
The Dybbuk Post-Film Discussion
Judith participated in the post-film discussion about the "The Dybbuk" hosted by The Twin Cities Jewish Film Festival in 2020.
The Dybbuk Post-Film Discussion from Minnesota JCC on Vimeo.
Broucci
Judith directed and choreographed a re-creation of "Broucci" or "Fireflies" on Sunday, May 15, 2016 at the Sokol Hall in St. Paul, MN.
Re-creating a musical by imprisoned Jewish artists and children in the Terezin Ghetto/Camp outside World War II Prague is an unusual story.
Judith's research included a recent interview in Tel Aviv with survivor Vera Meisels, a child in the Terezin performances. With the encouragement of Blanka Brichta, Lenka Braggova and many others at the Czech Slovak Sokol Center in St. Paul, MN, Judith is directing and choreographing a new production of "Broucci."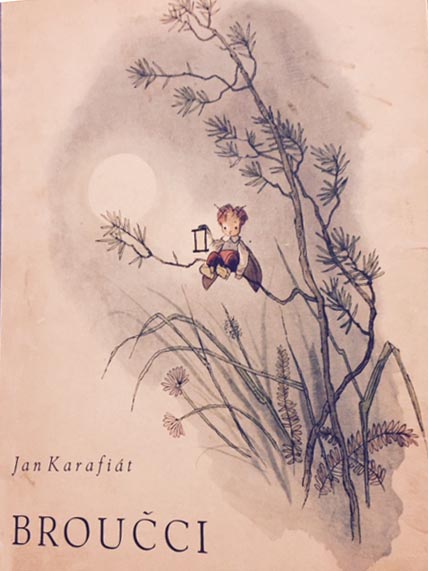 The reenactment of a children's musical came about through Judith's continuing research on children's performances in the Terezin Ghetto outside Prague during World War II.
Jewish children brought their favorite Czech folk tale with them to Terezin, the basis for a musical in the most unlikely of venues, a Ghetto/camp. This amazing musical was created with the imprisoned children by several original artists including the visionary director Vava Schonova (who survived WWII and made it to Israel).
The "Fireflies" or "Broucci" performance in May, 2016, a re-creation at the Sokol Czech Slovak Center in St. Paul, MN of the Terezin ghetto/camp during World War II.


Series with Judith Brin Ingber, director, and assistant director Blanka Brichta working out a rehearsal. Photo credit: Martina Grugel
Flyer for "Broucci" performances in St. Paul, MN.
Judith directing children in the cast of "Broucci" or "Fireflies" at the Sokol Czech Slovak Center theater, St. Paul, MN. Photo credit: Martina Grugel
Judith conducting mask-making workshop for "Broucci" with parents and cast members. Photo credit: Martina Grugel.
---
Clouds
Images from Judith's piece, "Clouds", with Sally Rousse and Jim Miller. Click the images below to see full size.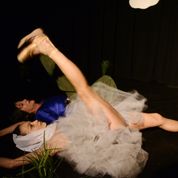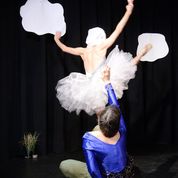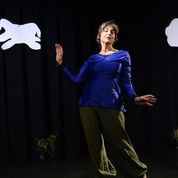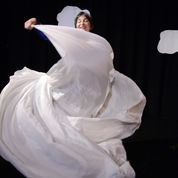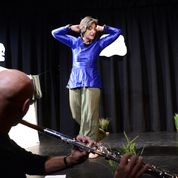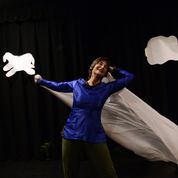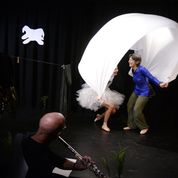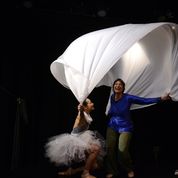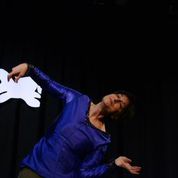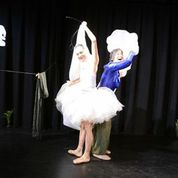 Judith discusses Clouds after the premiere at 9x22. Click to view video.
---
Preparations for the Walker Art Center's recent Choreographers Evening, Nov. 24, 2012, a program originally begun by Judith Brin Ingber 40 years ago. In that first program Judith danced this solo. Rehearsal caught on video by V. Paul Virtuccio.
---
On August 7, 2012, Judith taught elements of Sephardic dance and performed with Voices of Sepharad at the Minnesota History Center, St. Paul, MN at the Minnesota History Center's summer world music series. The performance, held on the picturesque outdoor veranda of the MN History Center, was co-sponsored by the St. Paul JCC Cultural Arts Department.
Click to view video.
---
---
Click on any of the images below to find out more about each of the dances, as well as to see larger images:
---
Choreographer Judith Brin Ingber hosted an event commemorating the 30th anniversary of Choreographers' Evening, the Walker Art Center's showcase of Minnesota's finest dancemakers. Bonnie Mathis, Elizabeth Garren, Patrick Scully, Heidi Hauser Jasmin, Danny Buraczewski, and Ranee Ramaswamy join the discussion and reflect upon the influences that shaped their careers.
---