Press & Praise

Read wonderful book reviews about Judith's book:
Dan Ronen's very positive review in the "Dance Today, Dance Magaizne of Israel" August 2012 issue, p 66. Translation forthcoming.
Mindi Aloff's column in the May issue of Dance Magazine. See the full review here, and what Deborah Friedes Galili's wrote in her dance blog: DanceInIsrael.com, Dec. 14, 2011.
Also the Jewish Book Council's recent "Jewish Book World" says that the book "combines academic thinking with the viewpoints of the dancers themselves...the writing is as full of vitality as the artists and the artistic expressions it covers...the reader truly 'sees' the dance on the pages." (see www.jewishbookcouncil.org spring 5772/2012)
Read a wonderful book review about Judith's new book in Deborah Friedes Galili's dance blog www.DanceInIsrael.com, Dec. 14, 2011
Judith featured in Haaretz Newspaper, Israel. Link to English translation: forthcoming.
National German Public Radio interview with Judith by Heike Wipperfurth about Jews managing to teach and perform dance in Terezin during World War II, the Nazi transit camp near Prague. The interview, aired on German radio, February 3rd, 2012 followed Judith's book launch at the 92Y in New York City.
Comments about Judith's book, Seeing Israeli and Jewish Dance in TCjewfolk: "A Beautiful, Dazzling Encyclopedic Work."
"I'm using your book - my students and I are just loving it. It hits all the right notes."
Reed College Professor Hannah Kosstrin
"I received a copy of the book and what a tour de force!!! It is a lifetime's achievement—a pearl, jewel in your cap, your legacy… I don't think there are words to describe how amazing it is!
Dance Historian Prof. Naomi Jackson, Arizona State University
"I saw the feature article in Haaretz and it was really special to read about you with my morning coffee. Seemed so natural!"
Arts patron in Tel Aviv, Nili
"I reviewed, enjoyed and cataloged your book Seeing Israeli and Jewish Dance. For American Jewish University; since I read your book I know that I am dancing every week when I daven in Shul. Keep inspiring us.
Jackie Ben-Efraim
"What a labor of love before my eyes and the plethora of subject matters covered in the different chapters, hours of readings ahead of me—so much to absorb and inhale and find connections with my own work."
Judith Shen-Dar
Chief curator of Art, Yad Vashem
"Your book came, and I have been reading it. What a rich tradition — so much variety and fascinating nuance between the different strains of Jewish and Israeli dance. I love the photographs too, which are so colorful, even without color! … What a magnum opus—wow!"
Novelist Margaret Wurtele, "The Golden Hour":
"I was so glad to go to your and Judith Chazin-Bennahum's presentation at the 92Y (Jan. 15, 2012 book launch). I loved it. It was good for my Jewish soul and my dancer soul." (Following 92Y Book Launch in New York, Jan. 15, 2012)
Wendy Perron,
Editor in Chief, Dance Magazine
"It (Mar 15 book program in San Francisco) was a delightful program and I had some lovely comments from people. As I was leaving the building from your program, there were 3 older women standing outside the building and talking about it. They really enjoyed it—came from Marin (across the Golden Gate bridge) and said they could have stayed for hours more! Thank you for being such a gracious presenter!! It was lovely working with you and if you have plans to be in the Bay Area in the future—let me know and we can see about doing another program." ."(Following Book program and signing in San Francisco, Mar 15, 2012)
Allison J. Green, presenter at the Jewish Community Library of San Francisco
"It is so wonderful to read your reports and know the outpouring of interest and acclaim that have accompanied the book. I'm kvelling for you!"
Josh Perelman PhD, Chief Curator, National Museum of American Jewish History
Judith and Merce Cunningham, Read the article in the Minneapolis Star Tribune.
"Israeli Modern Dance Goes Global: Tel Aviv Festival Spotlights Rare Array of Talent," mentions Judith in the The Jewish Daily Forward
Judith mentioned in The Forward article, "From Zero to 4,678 in 80 Short Years: The Surprising History Of Israeli Folk Dancing," by Lisa Traiger. Also read more: "Stepping Into the Future: Israeli Folk Dances Into the 21st Century and Beyond."
Judith and Minnesota Dance
Watch Judith discuss the growth of dance in Minnesota from the 1950s to today in Minnesota Playlist and Dance Magazine.
Judith in recent Dance Magazine article about MN dance history by Linda Shapiro, see "An All-Weather Scene: Dance is thriving in Minneapolis and St. Paul," Jan. 2012. pp 66-76, Shapiro includes the following: "Dancer/writer Judith Brin Ingber convinced Walker Art Center, a bastion of modern art and performance, to sponsor local Choreographers' Evenings which have been ongoing." (In fact, Judith created the program in 1971 and it's never stopped).
Performance Reviews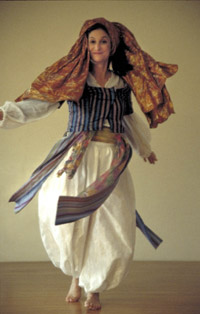 "Pleasing assortment of songs and dances - many lively, some melancholy, a few tragic, and all beautifully costumed."
– Jack Anderson in Dancing Times of London
"The beauty, expertise, scholarship, and professionalism that informs your performance is truly moving...for those few of the people who thought Sephardic music and dance foreign and not easily accessible, your performance was a valuable introduction..."
– The Wexner Foundation, New York
"Any campus with a serious interest in promoting multi-cultural awareness and artistic and religious diversity - as well as wanting an outstanding musical and artistic performance- will be amply rewarded by hosting Voices of Sepharad."
– Drake University
"Voices of Sepharad's newest work These Things I Remember" explores the connections between defining life events and faith, set against the vivid backdrop of Sephardic history."
– City Pages writer Caroline Palmer
Judith's Conference Presentations
For the international conference on Sara Levi-Tanai, founder and resident choreographer of Inbal Dance Theatre Dec., 2011, sponsored by Tel Aviv University and the Israel Dance Library
"Your presentation in the conference was really excellent…so beautifully prepared and presented and giving insights into who Sara really was! I always come away wishing the person that is talked about (Sara in this case) would have heard the conference comments during her life! Why do we wait until she is no longer with us?"
Rena Gluck
Soloist emeritus of Batsheva Dance Company
Past director of the Rubin Academy of Dance department
Dance historian
Presentation and Leading Traditional Dances
Unusual review of Judith's program at Congregation Nahalat Shalom in Albuquerque, New Mexico from "The Link", available here.
"We can't thank you enough for the wonderful program you presented. Your ears must be burning because we heard so many fine comments. We absolutely loved the video you showed about Felix fibich who is such a treasure! And thank you for getting members up to dance in such a nice, easy way—starting with just a simple line of walking dances. We do have an older group and those who couldn't get up still loved watching you and everyone who did. It was a rich, rewarding experience for all of us, with your nice easy way about you and your incredible knowledge."
Annalee and Dorothy, co-chairs, The Vinkle. those who love Yiddish culture and language, Mpls, JCC, Feb. 12, 2012